The Story of Tosca K.
During my research into the history of the Jewish Children's Home in the Fehrbelliner Strasse 92 in Berlin-Prenzlauer Berg I took up contact to Tosca K. who, together with her siblings, Aron and Sonya, had gone to this home as children in the thirties. Tosca was the only one of her family to survive the Nazis by being taken to England on one of the Kindertransporte. Later she married a boy she had met at the home and has been living in New York for now decades. However, this contact faded out very soon because - this was my impression - the memory of those times was too painful for her.
In 2005 I sent her the book I wrote about the home "Gegen das Vergessen" (Berlin 2005) and she wrote to me again. Then I was able to visit her in New York in the summer of 2006.
When I told her about the possibility of having Stolpersteine set into the footpath in front of the house where she and her family had last lived, she immediately agreed. There are no grave-stones for anyone in her family. Not even the dates and places of her father's and brother's deaths are known.
When I returned to Berlin I wanted to find out how this family had lived in Berlin before and during the Nazi time and I felt it would be good to do this with the help of the young people attending the John Lennon College which Tosca and her brother Aron had once attended. It is close to where the family had lived and today the pupils pass the apartment building on their way to school. I hoped that by researching the discrimination, persecution and eventual murder of a single family, this part of history would come alive to young people.
At the beginning of the 2006/2007 school year I contacted the headmaster, Mr. Pfeiffer, and a history teacher, Mr. Bröcker. Their reaction was positive and they introduced the project to the classes. Four girls then volunteered.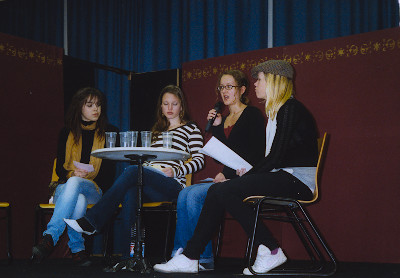 Karina, Rebekka, Sophie, Sophie
vom John Lennon Gymnasium
bei der Feier zur Stolpersteinverlegung
Photo: private
fehrbelliner92/tosca.txt · Zuletzt geändert: 2007-12-28 10:12 von 127.0.0.1
---